Year:                 2014-2015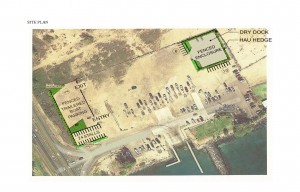 Project:            Dry Dock, Storage & Parking

Client:               Maui Dry Dock & Storage, LLC 
Contact:           Jeff Strahn
Telephone:      808-270-9813
Permits Obtained
Board of Land and Natural Resources approved
– Conservation District Use Permit
– Draft / Final Environmental Assessment
– Finding of No Significant Impact
Project Description
The Department of Land and Natural Resources small boat ramp at the West Breakwater provides access to to Kahului Harbor and the sea along Maui's north shore. The commercial harbor is used by a wide variety of people for a variety of activities such as fishing, subsistence gathering, outrigger canoe racing and paddling, surfing and stand up boarding, kayaking, jet skis, commercial fishing, fishing tournaments, and recreational boating. The DLNR facility is the only location on the Island of Maui where larger boats can haul out of the water. Additionally, large private boats and some commercial operators can not obtain adequate repair and inspection services and must transit to Oahu or the Island of Hawaii (Kona) to obtain so-called "dry dock" services. This ocean transit is both expensive and places crew and captain at risk should sea's turn rough or inclement weather be encountered. This project sought to remedy the situation by providing a location on the Island of Maui for private and commercial boats to haul out for inspection and repairs, while simultaneously increasing and organizing public and trailer boat parking. 
The facility:

1. Provides a convenient location to inspect and maintain boats;

2. Protects crews and boats from the risks of inter-island voyages;
3. Creates business (supplies & materials) and jobs here on Maui;
4. Protects the environment through facility design, containment and required use of best management practices;
5. Provides private boaters an appropriate, secure, and convenient location to park their boat and trailer overnight and long-term;
6. Creates a more efficient, effective configuration for parking to the benefit of all users; and
7. Creates lease revenue to DLNR that could fund other harbor improvements, like portable restrooms.