Project:      Seawall Repair
Client:             Nohonani Condominium
Contact:         Gladys Hernandez-Kamalani
                        Hawaii First Community Association Management
                        24 Church Street, Suite 208
Telephone:     808-244-7788  and 792-3033
Permits Obtained & Processing Time:
Discretionary – permits obtained in 39 days

Ministerial – permits obtained in 58 days
| | |
| --- | --- |
| Discretionary | Ministerial |
| Special Management Area (SMA) Minor Permit | Flood Development Permit |
| Shoreline Setback Approval | Building Permit |
| Environmental Assessment Exemption | Grading Permit |
| Emergency SMA Approval |   |
 Special Circumstances:
Required proof of non-conforming, legal status of seawall's construction.

Quickly addressed and remedied State Historic Preservation Division concerns over excavation.

Some site plans of the building's construction were available, but none indicating the seawall.

Obtained archival evidence of an existing state-certified shoreline that indicated there were no encroachments onto State property or jurisdiction.
Before repair showing rear yard collapse due to wave over topping and undermining of the seawall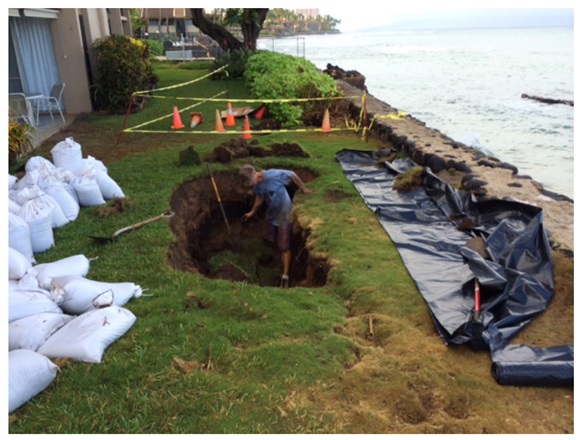 After repair showing rear yard and new wave over wash lip to prevent wave overtopping.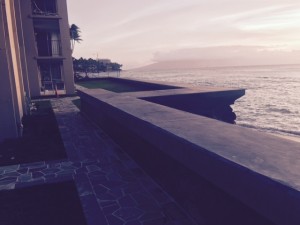 After repair view from the beach showing over wash lip and seawall cap.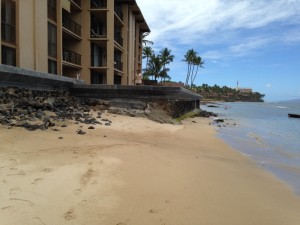 Client Comments:
From Maryann Haas, President Nohonani AOAO
1 March, 2015
Aloha, Thorne, Clay, Gladys,
The entire Board and all the Homeowners of Nohonani AOAO are truly indebted to you for your diligence, perseverance, intellectual approach and reassurance, helping us to finally receive our permits!
And, as Clay wrote:  "Many Thanks to Thorne for his excellent work."
We are so VERY PROUD of everyone's effort.  We are a GREAT SEAWALL CONSTRUCTION TEAM: Consultant Thorne Abbott, Contractor Clay Scott, MA Gladys Hernandez Kamalani, RM Joe Webb, and the 5 BOD: Vice President, Ron Elioff, Secretary Karan Foss, Treasurer Tip Tyler, Rick Degen, Director at Large, and myself,  Maryann Haas, President.  We truly worked together, as a Team, to GET THE JOB DONE!  WE DID IT!!!
Glady informs us that:  "We are poised and ready to proceed on the 23rd."
MUSIC TO MY EARS!  BEST NEWS I HAVE HEARD IN A LONG TIME!!!
THANK YOU AGAIN, FOR ALL YOUR HELP,  MARYANN
From Gladys Hernandez-Kamalani, Hawaii First Management Company
 Thank you, Maryann, for your kind words.  We would not have been able to accomplish this without the help of Thorne and Clay.
Everyone deserves a pat on the back and a drink to toast this milestone