Year:                2014
Project:
Canoe Halau for the Puakea Learning Center at Heeia State Park
Client:              Puakea Foundation of Hawaii and Keiki O Ka `Aina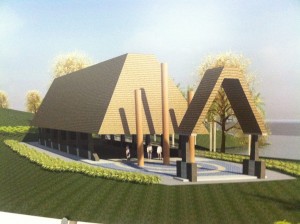 Contact:           Dr. Fran Palama, Architect
                         P.O. Box 1799   Kailua, Hawaii  96734
Telephone:      808-341-9881
Special Management Area (SMA) Minor Permit

Shoreline Setback Approval

Environmental Assessment Exemption

Compliance with Wetland Restrictions

Authorization from State Parks for use of State lands

Authorization from the Board of Land and Natural Resources

Building Permit assistance – City and County of Honolulu
The purpose of the Puakea Learning Center is to perpetuate Pacific Island Canoe Culture and to teach traditional koa canoe building and restoration techniques and methods. The project will construct a traditional halauwa`a (canoe school) facility within a Heeia State Park at 46-465 Kamehameha Hwy.  Kaneohe, Oahu, Hawaii. The State Park is managed by the DLNR Division of State Parks and is within the City and County of Honolulu SMA, zoned Preservation, and adjacent to a wetland, fishpond and along the shoreline. As a result, compliance with a number of rules and regulations, and laws was required such as environmental review and public hearings and decision making. 
The Center provides a space for cultural practitioner, Uncle Bobby Puakea to teach students from kindergarten through college and beyond learn how to make their own canoe paddle. The Center and Uncle Bobby partnered with Keiki O Ka `Aina, a non-profit organization serving Native Hawaiian's, to further the cultural strengthening and environmental education of children. Coastal Planners is honored to have contributed to this exception project, a rendering of which is provided below courtesy of architects Carlos and Fran Palama.